Given that many people are working from home, there is no reason why we can't have an extravagant home office. The luxury corner office you've always dreamed of decked out in the latest technological gadgets and lavish amenities can finally be a reality. Since you're spending multiple hours a day at home, there's no reason why you shouldn't invest in a fantastic office chair, some indoor plants, and other upgrades to make the space comfortable, geared towards productivity, and curated especially for you.

Treat yourself to some upgraded essentials and luxury amenities. After all, you're saving plenty of money on your commute, so you might as well invest in a chic space to conduct business~ Spruce up your home office with these fabulous enhancements.
Ergonomic desk chair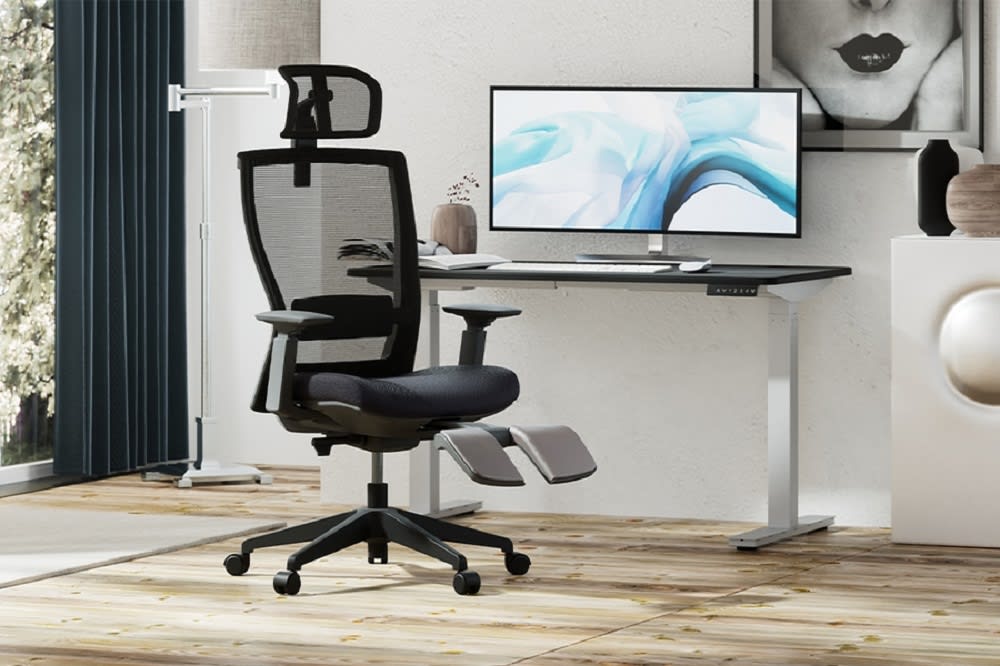 While a sofa, dining chair, or kitchen stool works fine to work from occasionally, only an office chair will suffice for extended workdays. A 2003
ergonomics study
found that employees who used ergonomic chairs reported fewer negative symptoms throughout the workday and a total increase in productivity of 17.7 percent. There are many efficient, ergonomic chairs on the market, all boasting back support and a seat you can sit in for hours on end. Consider this ergonomic
sayl chair
, which features fully-adjustable arms and seat depth and an eco-friendly design. This chair is ideal for those who struggle with back pain. Spend a bit more on this
freedom headrest
model, called "the gold standard in office seating" by
The New York Times
. Scope out Forbes' article on excellent
work from home chairs
to find out what suits you.
Chic task lighting
To look your best for Zoom meetings and avoid eye strain, you need to get your office lighting in order. Consider a
designer desk lamp
to illuminate your workstation in style when prioritizing both form and function. Whether you prefer a brass or polished nickel lamp, there are many choices to brighten up your home office. This
melange desk lamp
brings an Art Deco-inspired feel to your office, featuring an alabaster stone lampshade. This option is versatile as it works for desks, end tables, and nightstands alike. Opt for this
banker trust desk lamp
if you prefer a more antique and glamorous aesthetic. If you prefer minimalist decor, consider the
Xiaomi Mi LED desk lamp
, featuring Wi-Fi capabilities, four lighting modes, and intuitive brightness and color temperature adjustment.
Ergonomic keyboard
If you want to give your wrists a well-deserved break from craning over your keyboard for hours, purchase an ergonomic keyboard. The last thing you need is a carpal tunnel syndrome diagnosis, so if you're working on a computer for hours, take this consideration seriously. An ergonomic keyboard can reduce wrist strain, increase comfort, and keep you focused on the task at hand. This compilation of
Goldtouch standard keyboard studies
shows that their ergonomic keyboard increased productivity, lowered rates of fatigue, and even benefited keying effort and rhythm. Given the various studies and favorable results, consider buying yourself a Goldtouch standard keyboard. Note that there are other
ergonomic keyboards
on the market with great reviews.
Smart assistant
Missing meetings, calls, or deadlines is a surefire way to look unprofessional to potential clients and customers. Avoid this predicament by using a smart assistant. Examples of smart assistants include Amazon's Alexa and Google Assistant. These tools can help you set appointments, book recurring meetings, make to-do lists, set up calls, or even define words and look up facts on a whim. If something important yet irrelevant comes up amid another task, ask your smart assistant device to take note for later and remind you in a few hours. Got an important business call coming up? Your digital assistant is on top of it. This is a must-have device when upgrading your home office. Get the low-down on different intelligent personal assistants and automated personal assistants
here
.
Personal hydration station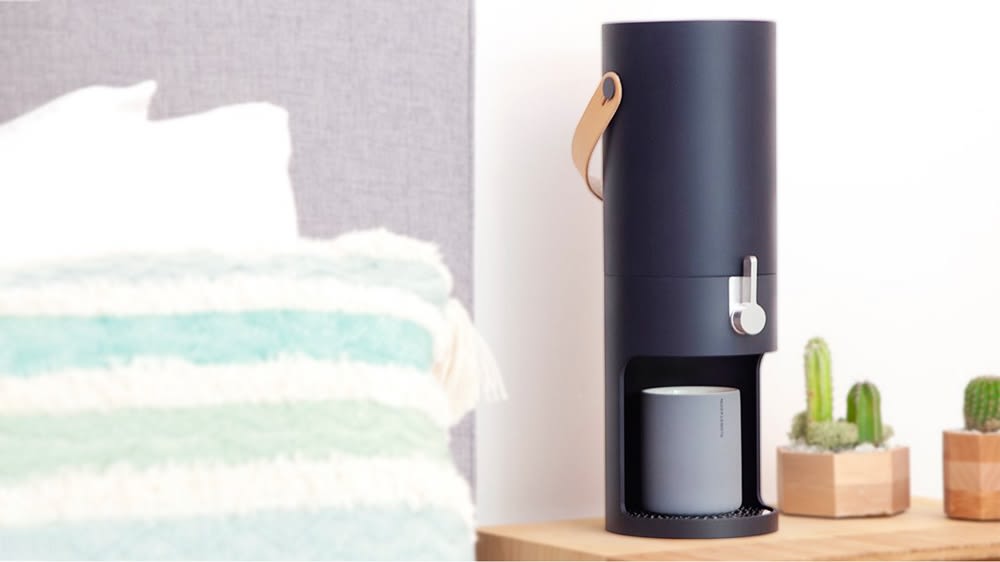 Photo courtesy of lifestyledesign.com
Getting up to grab a glass of water when you're in the middle of work can be disruptive. Once you're up, you can get distracted by a myriad of things, from the small home repair you keep putting off to the kids looking to have yet another tea party that day. Skip the distractions of your home with a personal hydration system. The
Fillup water tower
is a sleek system that's super user-friendly. If your space and budget allow, consider creating your own drink station with an espresso machine, a designated snack section, a condiment station, or whatever you please. A personal drink station will also be great when clients come over to discuss business ventures.
Adjustable desk
If experiencing backaches from sitting at your desk all day has become a regular thing, it's time to transition from a traditional desk to an adjustable standing desk. The best part about standing desks growing in popularity is the array of options available, many of which are height-adjustable.


Sitting for hours leads to an increased risk of diabetes, heart disease, and early mortality, and standing desks can actually
benefit health
. At the very least, a sit-stand desk can negate some of the harmful effects of sitting too much. Head to Overstock.com to browse their selection of
adjustable desks
. Check out this list of
height-adjustable desks
to find one that suits your space and style. Adjustable desks come in various styles, colors, and sizes and work for people of varying heights. This option is perfect for those who are happy to stand while working but also appreciate the ability to sit down.
Ergonomic footrest
If your feet dangle from your desk chair, consider opting for an ergonomic foot rocker to rest your feet on. To reduce stress on your lumbar spine, you want your thighs to be parallel to the floor with your hips slightly higher than your knees. Consider buying this
Humanscale FR300 ergonomic foot rocker
as its footrest has three-inch height adjustments and ball-bearing rollers to encourage you to move more while sitting in front of your screen. If you want to maintain proper posture and feel more comfortable at your desk, definitely consider buying an
ergonomic footrest
.
Second monitor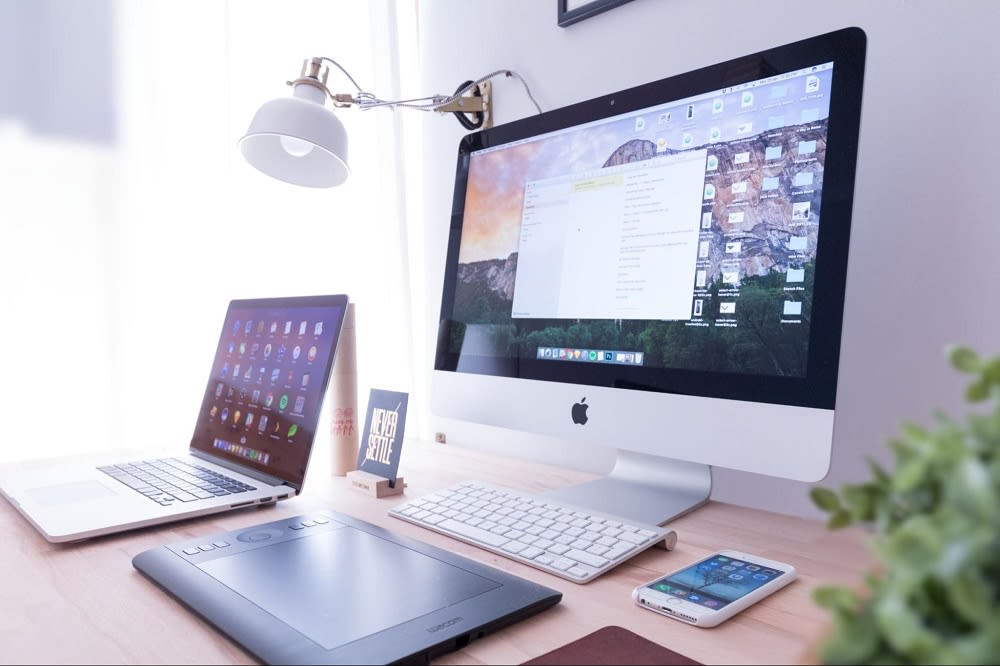 It's not uncommon to have dozens of tabs open when working from home. At first glance, this seems like a step in the right direction towards productivity, but in reality, clicking back and forth from webpage to webpage gets confusing fast. That's why a second monitor can help alleviate stress and confusion and save you time when accomplishing day-to-day tasks. Per a
New York Times
' report of a Jon Peddie Research survey, dual monitors have proven to
increase productivity by 20-30 percent
. When choosing a second monitor, pick one with a clear, readable screen and brighter displays. Regardless of the choice you make, the fact remains that a second monitor will help you stay on task and keep organized, making for a seamless work from home experience.
Greenery
Breathe life into your home office with a low-maintenance plant or a vase with fresh-cut flowers. Adding a dash of greenery is not only pretty to look at but also makes your workspace feel more inviting. Succulents are a great choice since they last a long time and require minimal care. Bird's nest ferns are another excellent choice, adding a bit of flair and joy to your office without requiring too much light or maintenance. Snake plants are fun, require minimal sunlight, infrequent watering, and are pet-friendly. Here are some additional
indoor plant
ideas that bode well in low-light conditions. Remember that your personal office is more than a place to conduct business: this is your sacred space, and it beckons a bit of flair and self-expression. Let your office reflect who you are and bring a smile to your face with every passing workday!
Artwork
Strategically placed artwork makes for a nice Zoom meeting background and conversation piece. It provides your eyes with something beautiful to look at after staring at a computer screen all day. Integrating elements of nature into your home office setup can offer you mental breaks and a chance to re-organize your thoughts and bring you to a more productive state. Hang a painting or a print above your desk area so you can always see it, or choose to place a piece behind you for a lovely conference call backdrop. Incorporate a few pieces to decorate your space enough to make it feel warm and calming without overcrowding the room. This upgrade depends entirely on your style and taste, so add artwork that truly speaks to you.

Are you looking to purchase Silicon Valley real estate? Contact esteemed real estate agent
Nick Khoe
today with all of your San Jose real estate and
Los Gatos Real Estate
.